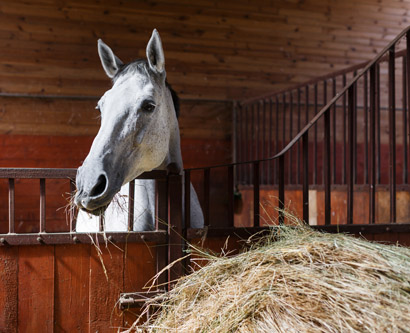 Our beautiful facilities in Hamilton, OH make it a great place to board your horse. The property has over 70 acres of green pasture and woodland trails, as well as an indoor arena for year round riding, two outdoor arenas with both dressage rings and stadium jumps and a brand new 60' diameter wooden round pen with great footing. Our horse boarding facilities include 25 boarding stalls (approx. 12' x 12'), with automatic waterers, two holding paddocks, 4 grooming cross-tie stalls, 3 indoor wash stalls, a cosy tack room and a lounge with kitchenette and restrooms.
What's Included
Horse boarding at Old Stone Riding Center includes the use our facilities from 9:00am to 9:00pm, 7 days per week. Other times are available by arrangement only. As part of our boarding service we include the following:
Daily stall cleaning from 8-11am (except Sunday and Holidays)
Daily feeding am, early pm and late pm
Daily turnout as needed
Discounts for riding lessons
Use of our farrier and veterinarian, during their regular visits
Feed Schedule
A.M. - Between 6:30am and 7:30am Hay and grain
P.M. - Between 2:00pm and 4:00pm Grain
P.M. - Between 7:00pm and 10:00pm Hay
All stalls have automatic waterers and are cleaned during barn clean and checked daily.
Safety
Safety is our primary concern at Old Stone. Please ride safely, always wearing a hard hat when mounted. Don't ride through the small doors or mount in the cross ties. Also, please be particularly careful when trailer loading and clipping. When out on the trail, be considerate of all other horses and riders around you, and follow hunt field etiquette!
Health
Horses should have a valid negative Coggins. Preventative injections (flu, rhino, tetanus, etc.) are required twice a year, and either paste worming every two months or daily worming. In an emergency, we will call a veterinarian for your horse.
Additional
Supplies / Services
Extra sawdust may be purchased by the bag. Extra hay and grain can also be provided by arrangement. Sorry we cannot allow self-service to grain, hay or bulk sawdust. Training, lessons, help with medications, exercise of your horse while you are away, can be arranged.
Cost
Boarding is $450** a month to be paid the first week of each month. Boarders are responsible for their own insurance.